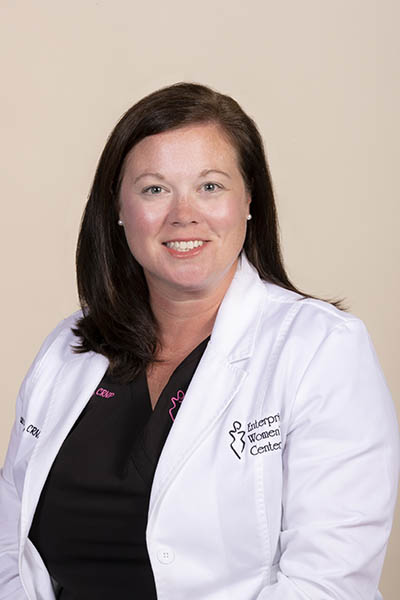 Candace Ohm Henderson
"Candi" was born and raised in Dothan, Alabama. She graduated from Northview High School in 2000 and attended Auburn University from 2000-2004 focusing on Pre-Pharmacy and Nutrition.
She later attended Wallace Community College in Dothan while working as a full-time as Certified Pharmacy Technician. She graduated with her Associates in Nursing in August 2006. She later completed her Bachelors in Nursing from the University of Alabama in 2008 while working at Flowers Hospital in the Surgical Intensive Care Unit.
She later transferred to Medical Center Enterprise Post Anesthesia Care Unit in 2008 and decided to further her career in Nursing at UAB where she earned her Masters in Nursing and became a Certified Registered Nurse Practitioner in Family Practice in December 2012.
She worked locally in Enterprise at Professional Medical Associates in Family Practice and also work as a nurse practitioner with Southern Care Hospice and DaySpring Hospice and Palliative care before starting at Enterprise Women's Center in October of 2020, after Dr. Banach's retirement.
She has a love for Women's Health and loves to take care of women of all ages.
She has a passion for adolescents and young women and she believes they need as much education and guidance as possible.
She is able to perform Annual GYN exams, pap smears, breast exams, and birth control counseling, problem evaluations/pelvic pain, etc., and has completed training for both IUD insertions and birth control implant insertions. She sees women of all ages and believes it is important to listen to them.
She is married to her Enterprise native High School sweet heart Chris and has two children Ally and Grady.
She enjoys being active in the community and at Enterprise First United Methodist Church and attending her children's sports events and activities along with going to the beach and shopping.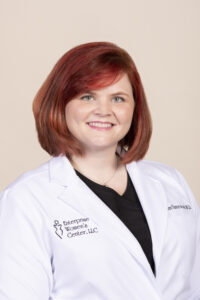 Ashley M Easterwood
Dr. Ashley M Easterwood joined the practice August 2022 after completing her residency in Obstetrics and Gynecology at University of South Alabama in Mobile, Alabama. There she was awarded recognition of Excellence in Minimally Invasive Gynecology and in Female Pelvic Medicine and Reconstructive Surgery. She was also recognized for Outstanding Performance and Valuable Contribution to the Education of Medical Students. Her education prior to residency includes Doctor of Medicine and Master of Science Degree in Molecular Pathology from Texas Tech University Health Science Center. Her undergraduate Bachelor of Science degree is in Biology with a minor emphasis on Chemistry and Spanish from Texas Tech University in Lubbock, Texas.
She grew up in Texas and will always love Texas but was drawn to stay in Alabama after residency due to the gorgeous green landscape and close access to beautiful beaches. Her and husband love to take their daughter and many dogs out on the water.
Dr Easterwood was drawn to OB/GYN because of the vast opportunities to support a woman's life. She enjoys helping guide a woman through pregnancy and delivery, discuss options and treatment for infertility, birth control, menopause, abnormal uterine bleeding, prolapse, and pelvic pain. She is a skilled minimally invasive surgeon in laparoscopy and robotic surgery. She is also trained to perform vaginally and abdominal surgeries, including vaginal prolapse.
Dr. Easterwood resides in Enterprise with her husband and daughter.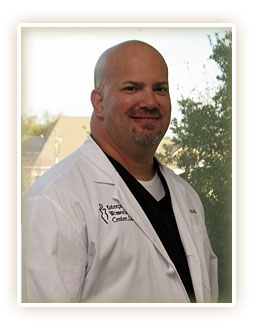 Bradley Kent Heim, M.D.
Dr. Bradley Kent Heim joined the practice in September of 2001. Originally from East Tennessee, he is a 1989 summa cum laude graduate of Carson-Newman College and a 1993 graduate with honors of University of Tennessee College of Medicine. He completed a residency in Obstetrics and Gynecology at Brook Army Medical Center in San Antonio, TX. He joined the group after 4 years on active duty as a staff OB/GYN at Winn Army Community Hospital in Ft. Stewart, GA.
Dr. Heim is board-certified in obstetrics and gynecology. Dr. Heim brings additional experience in high-risk obstetrics to the group as well as a strong interest in vaginal gynecologic surgery. He is continually seeking new options for his patients by participating in continuing medical education activities.
A strong patient advocate, Dr. Heim believes that the best care for patients is delivered when the physician and the patient communicate as partners in a decision making process. He firmly believes in providing treatment options and allowing patients to make informed decisions based on available information.
Dr. Heim resides in Enterprise with his wife and three children.
James D. Pollard, M.D.
Dr. James D. Pollard is board certified in obstetrics and gynecology. He earned his Bachelor of Science degree in Chemistry from Auburn University in 1989 and graduated with honors from the University of South Alabama college of Medicine in 1993. Following medical school, Dr. Pollard completed his residency in obstetrics and gynecology at Bayfront Medical Center in St. Petersburg, Florida. There he was awarded the honors of Most Outstanding Resident and Best Resident /Teacher.
Since graduating from residency in 1997, Dr. Pollard has been in private practice. Prior to joining Enterprise Women's Center in April of 2002, he practiced obstetrics and gynecology at Dale Medical Center in Ozark, Alabama.